My mother always said not to get caught up in any trouble, as being black, I would be the one people would blame. Of course, I didn't believe her. I always knew this was a way to put fear into me which, like many a traditional West African parent (ironically), she could. Many of my friends could swear, shout and berate their parents and be met with nonchalance, calm or a mix of carefully chosen parenting styles. I'd be met with drama. And possibly a slap. 
The flip of this no-nonsense approach was her struggling-to-make-ends-meet-single-mother status, which meant she was always working, and I had a freedom to roam (the Sussex village). 
And roam, I did. I had many friends and embraced teenage hood wholeheartedly. Perhaps due to my early experiences I was always acutely aware of what I perceived to be injustices. My mother said it was because I was a Libra. Either way, I often found myself speaking out, defending the underdog, and not standing for discrimination of any kind. 
In the Summer Term of Year 8, I campaigned for my friend who was expelled from school for dying her brilliant red hair blonde (the urge to fit in was palpable). I thought this was a gross injustice and I led an assembly calling for the decision to be reversed. It wasn't. I also spent that Summer Term befriending a boy several years older than me, who was effectively homeless.
Jonathan Albridge's temporary misfortune made him a hero in some ways to me. When he used to 'knock round' for me, a rush of excitement would enter my body. We would stand outside my door and I would listen as he would tell me about his estranged family, his hardships and his life. Of course, he never showed any particular interest in my life, but I had learned quickly that that was to be expected from boys in the nineties. He made me instantly feel important. He was old enough to intimidate me and I decided quickly I was in love with him (this was clearly a theme) and I must do my best to save him.
I knew what being an outsider felt like, and bonded by this and a romantic disposition, our 'friendship' began.
Jonathan also told me that he thought I was beautiful. I fantasised about us together against the world. He was surprising unattractive. But his toughness (or my eagerness for attention) seemed to detract from this.
He would knock, we would walk - sometimes across the road to the car park where he was 'staying'. We would talk for hours. In teenage village life there is an admiration for struggle, hardship and danger. And he had all three. The same car park that held such a bitter memory was now softened by its new status as the set of a love story. My love story.
It was during this blossoming romance that the writing started to appear. It was my best friend who noticed it first.
Niger. 
On a wooden bus shelter wall.
It was almost tempting to correct the spelling but instead we went home, emptied my pencil case, returned with a felt tip, crossed Niger out and wrote Wanker underneath.
This became a regular occurrence. But despite my fury I was always worried we would get caught and then perhaps I would be thrown in jail for defacing public property. Or worse still, my mother would find out.
We had a system. One of us would write, the other keep a look out for any police or parents or adults in general. My slim, blonde, private school best friend was braver than I. She did the writing whilst I tried to block her from view and keep watch for any passer-by. Luckily in a village, there were few. 
We would think of different words to replace the insults:
Wog Wanker
Coon Cunt
Black bitch Fuck off
I felt the replaced graffiti unsatisfactory - I wanted a word that could rival the insults, but I didn't know of one. 
One day, during our anti-racism bus shelter vandalism jaunts, my friend with the brilliant red hair came along with another girl. Her name was Nikki and she terrified me. She terrified everyone. She had moved to the village from London and because of this she was of particular interest to me, and I to her. She said that all her friends in London were black and she only dated black men. One night she had even invited me over to her house to put hair pieces in my hair. She had a recklessness about her that made me feel uneasy, but as the nearest thing to the 'black culture' I felt removed from, I had a fascination with her. 
She asked what we were doing, and we showed her the graffiti. She said, 'White men are pussies' and that she knew 'Loads of black men that would beat them up'. 
I'd never heard a white person referred to by their race before. I thought it strange to hear a white person say 'white men are pussies', but I wasn't about to question Nikki. I just wished that I knew loads of black men that could beat them up too.
Unusually, Nikki and my friend were actually waiting for a bus. This was probably the least likely thing you did in a bus shelter, in a village, as a teenager. When the bus arrived, I was secretly relieved. The pressure of Nikki's presence was overwhelming and seemed to make the air thick and heavy. As the bus doors opened, Nikki, and my friend with the brilliant red hair, boarded the bus. But within seconds loud voices were heard. 
"Get off this bus, now." The bus driver shouted.
"Just let me on, you dick," Nikki yelled back.
"I'll call the police. Get off, you little bitch."
"Who did you call a bitch…" 
Nikki didn't have enough money for the fare. My friend with the brilliant red hair was now involved. Nikki squared up to the enraged driver. He was shouting, his plump, red face moist with sweat, his hands gesturing dramatically. The exchange was explosive and sent a debris of expletives showering into the village air. 
My best friend and I stood frozen to the spot, watching the argument unfold. I stepped out from the bus shelter and dared to speak,
'Maybe just leave it, Nikki.'
Nobody seemed to hear. Nikki carried on shouting, until the bus pulled away. My best friend and I made our excuses and left, laughing only after we knew Nikki was out of site. I may be the only black in the village, but at least I wasn't a psycho, I thought.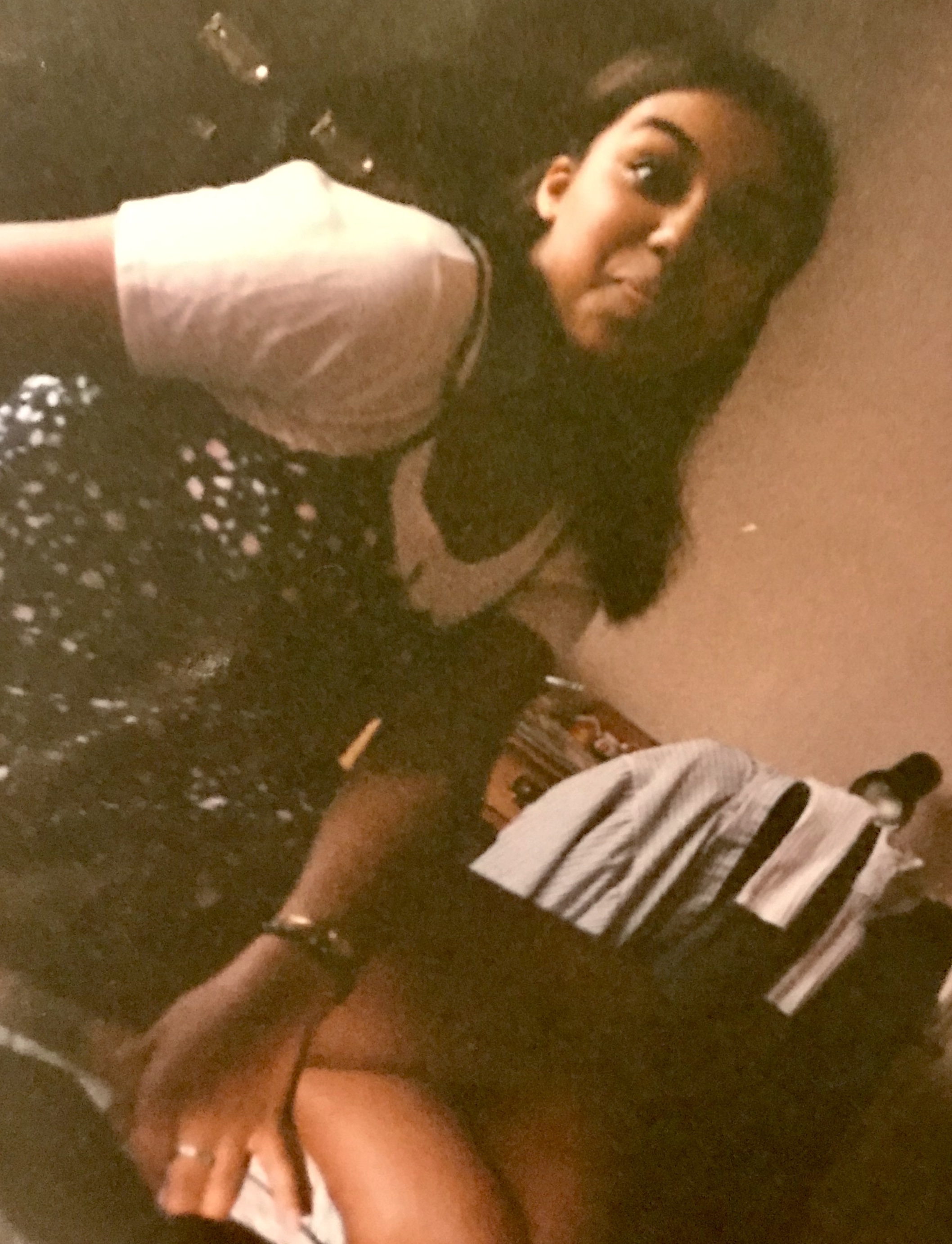 The next day my friend and I were heading across the park by my house to the local Blockbuster to return Boyz n the Hood. I had a fine because I had kept it too long. There was a crowd gathered in the bus shelter. All white faces. Two bikes lay on the ground with freshly spinning wheels. Teenage life bubbled inside. My friend and I were excited. And terrified. This is what we both hoped for and dreaded in equal measure. Bus shelters play a key role in village life. A sanctuary (for some) to gather, smoke, drink, touch and do recreational drugs. Sheltering you, in fact, from nothing at all. And anything could happen in a bus shelter. Relationships could form, fights could break out, reputations could be made and broken. 
I tried to keep my eyes ahead - the Bus Shelter Racist was still unknown, after all. 
But someone called out my name. 
It was Jonathan. 
The warm feeling returned. Next, we were laughing, talking, taking drags on cigarettes. My friend began talking to another boy, Lee, with a chiselled jaw and bright eyes. I knew most of the boys fancied my friend, which to me seemed fair enough. She was blonde and slim and beautiful. She had a small nose and blue eyes and very long straight hair. My mum even said she was pretty, and she didn't even particularly like her. 
The evening was freezing. My fingers were stinging from the cold night air. Then at some point, when most of the others had dispersed, Jonathan gave me his jacket and we sat holding hands. The warmth from that moment sliced through the cold. Jonathan said he thought he knew who had been writing the bus shelter messages. Two girls, called Kate and Tracy. I, of course, knew them (and where they lived) so made a mental note of this, but returned to the warm glow of this evening. If anything, the racism added to the romance. Us, against the world.
Outside my front door that night, Jonathan kissed me. He smelled of Benson and Hedges and Lynx Africa and the years between us. I was terrified and exhilarated. Those early experiences that push you from childhood to something else. You feel the fear as you stand on the precipice of womanhood, edging forward with trepidation. I was at the front of the roller coaster queue on a hot summer's day.
The next day my friend and I walked through the park by my house and passed the bus shelter again. As usual a group of teenagers were gathered. We walked in silence, waiting for the call to join. We had put on Rimmel Heather Shimmer lipstick, which looked ridiculous on me, so I framed it in dark brown lip liner as I had seen T-Boz from TLC do. This time nothing. No calling over. Then we saw the familiar Ford Fiestas parked nearby. 
Chris and James.
My heart pounded and I started to notice the saliva build in my mouth. 
Still nothing. 
We kept walking. There was about fifteen of them. We kept looking ahead, pretending to talk, pretending to be relaxed, pretending to -
'Paki.'
I turned, confused. Their laughter was clear and direct. I looked around. Who said that?
Since my complicit laughter in the car park I had vowed never to allow myself to feel such shame again.
'If you are going to insult me, get it right!' 
My voice sounded strange. I had never shouted in public before. It sounded small and silly and separate from my body. 
Then came the comment that threw me to the floor.
'Your dad is a Jamaican Botty Cleaner.'
Faux patois.
'Let me clean up dis rubbish now, man!'
I recognised the voice. I didn't want to, but I did.
The group erupted in laughter. I turned to the them in my disgust. My father was more educated than all of them put together. My father was a six-foot political prisoner who had objected against the Vietnam war, travelled the world, written for the ANC and spent three years in a Zambian state prison. What did they know about him? (What did I know about him?) How dare they speak of him?
But I didn't say that. I didn't say any of that.
Instead I said,
'Fuck you. Fuck you, Jonathan. Fuck you all.'
Our eyes met momentarily. He didn't look away in shame. He just laughed and continued his terrible patois accent as others joined and they continued throwing rubbish out of the bin for my father to clean.
I stood shouting at them with more rage than I knew existed within me. I had never sworn at a group of people in public either. I don't know if I'd ever sworn at anyone. But after the first fuck, it got easier. I felt electricity surge through my body. I was the only black person in the world. In my world. In their world. So, in my eyes, I had to stand up.
I shouted to protect my father and I shouted because I wanted my father to protect me. 
I shouted for every time I'd laughed or stayed silent or turned away or given the benefit of the doubt. 
I shouted for the Eighteen-year-old boy that I'd seen on the news for being stabbed in a place called Eltham.
I shouted for the men I'd seen on the same news who were laughing as they were set free.
Fuck you Jonathan Albridge.
Fuck you all.
I went home shaking. My best friend said I was really brave and cool - and that it was good chiselled Lee didn't say anything bad. We smoked Marlboro Light cigarettes out of my bedroom window and then sprayed ourselves with Impulse body spray. Her mother arrived to drive her home to an even smaller neighbouring village, and then I told my mother about what had happened. Minus the fucks. And the Jonathan Albridge part. 
She said the best thing to do is to ignore it. She said that if I ignore them, they will stop. She said I was making it worse by reacting. She said if she ever hears me shouting and swearing in the street there will be hell to pay. This feels pretty hellish now, I thought. 
I went up to my bedroom and I pressed play on my stereo. Oasis blared out -
I'm free to say whatever I
Whatever I like
If it's wrong or right it's alright
Always seems to me
You only see what people want you to see
How long's it gonna be
Before we get on the bus
And cause no fuss -
I pressed eject and threw the tape on the floor. I inserted The Fugees instead, fast forwarding to the last track, Manifest, as Lauryn spat out -
You see I loved hard once, but the love wasn't returned
I found out the man I'd die for, he wasn't even concerned
'Turn that racket down!' my mother shouted from the kitchen.
And time it turned,
He tried to burn me like a perm
Though my eyes saw the deception, my heart wouldn't let me learn
From um, some, dumb woman, was I,
And every time he'd lie, he would cry and inside I'd die.
My heart must have died a thousand deaths
Compared myself to Toni Braxton thought I'd never catch my -
There was a knock on the door. I knew it was Jonathan. I walked down the stairs slowly and opened the door. He said he was sorry. He said it was only a joke. He said it was Chris and James - they'd dared him. He said he was a dick for doing it and that he always does the wrong thing and I should know that.
I wanted to erase the past few hours. I wanted to be able to turn a blind eye. I wanted to be able to see the funny side and I wanted to be able to have a boyfriend.
I rang my friend with the brilliant red hair. She said that people say mean things to her all the time because of her hair and that she can't call that racist. She said it's not such a big deal. She said only old people were racist, like her dad. (But he liked me, because I was intelligent - which he said I got from my white side.) She said Nikki was a psycho and we laughed hard about the bus incident.
Still, I told Jonathan to go fuck himself and to give me back the five pounds that I had lent him.
************************************************************************************
I was asleep in bed when my door swung open so hard that it hit my wooden desk, scraped my Jared Leto poster and knocked over the waste-paper bin. I instinctively jumped out of the bed and positioned myself on the opposite side, by the window. My mother was shouting as she picked up a shoe from the floor to hit me with. I retreated to the corner of the room as she strode towards me, spittle flying as she spoke.
'How dare you!'
'How dare you!'
'How dare you bring this shame to my front door!'
Confused and terrified I was pulled down the stairs in my pyjamas, through my mothers' shop and out to the wide pavement, all the time protesting at the injustice of this treatment (and also, all the time wracking my brain as to what I could have been caught doing.) Outside the shop was a bus. It was stationary, full of passengers, with its doors open. This was an unusual site as there was no bus stop directly outside my house. Something wasn't right. Then I heard the voice and recognised the plump, red face, moistened with sweat. 
'That's her. The black girl,' he said, gesturing to me.
'That's the girl that tried to get on my bus with no fare.'
'That's the girl who shouted and swore at me in front of all my passengers.'
I stood, dumbfounded. 
I          didn't         understand        what        was        going        on. 
He must have got it wrong, there must be some confusion.
'It wasn't me!' 
'I didn't say anything to you. I was just there.'
'You know it wasn't me!'
The short fat man was smirking. I could see he no longer felt short and fat but powerful and victorious. I could also see something else. Something in his eyes, something that frightened me.
'It was her,' he said. 'She thought she'd get away with it. But when you're the only black in the village, you can't.'
My mother flinched at this.
'You're a liar!' I shouted, before being dragged back inside.
'I didn't do it Mummy, I swear. He's lying.' I sobbed through angry tears of injustice. 'Why is he saying that? Why would he say that?'
That evening my mother and I drove in silence to the Bus Depot. The forty-five-minute journey stretched out like a sentence. We passed other villages and other white faces and other bus shelters. I wondered if all the bus shelters in all the villages in all of England had a Wog or a Coon or a Nigger written in them? I thought about the bus shelter in Eltham where the Eighteen-year-old boy I had seen on the news had been stabbed. I thought about my mother and Jonathan and my friend with the brilliant red hair, and I knew then that they were wrong. 
It wasn't funny. 
Or the same as having red hair. 
Or having braces, or spots, or glasses. 
And ignoring it wouldn't make it stop.
I figured that, being thirteen, I had about three years until I could leave. 
Three years.
So I decided, from that moment on, if I was the only black in the village, I was going to be the boldest, bravest, blackest Black that village had ever seen.